Will to Strike (All breakages must be paid for)
Not just an extravagantly realised luxury–bowling scenario, Philosophical Bowling exists within an artistic context but rubbing shoulders with the ontological questions posed by the engraved pins and the bowling balls of differing states in tension. It is simultaneously a potentially practical bowling alley while remaining impractical as art, as philosophy. However, all are rendered mute by capital: buy it and you may strike as you please!
more about this work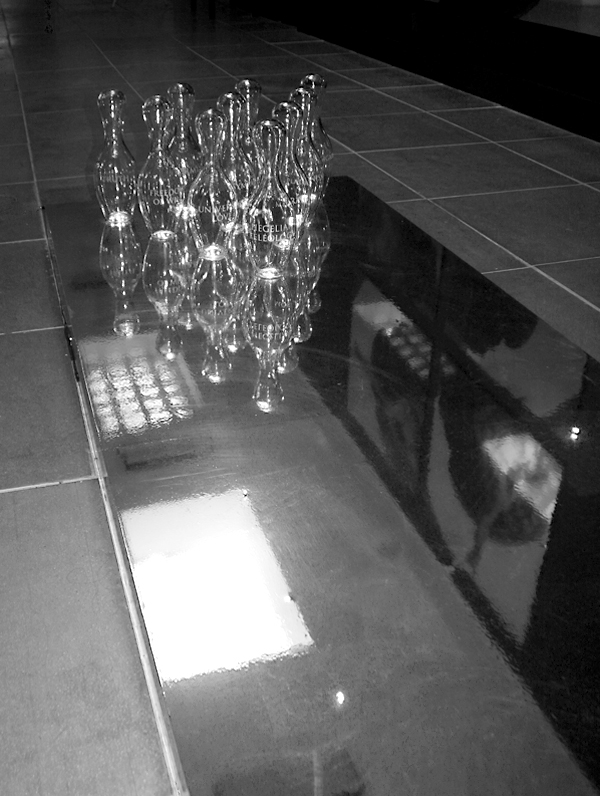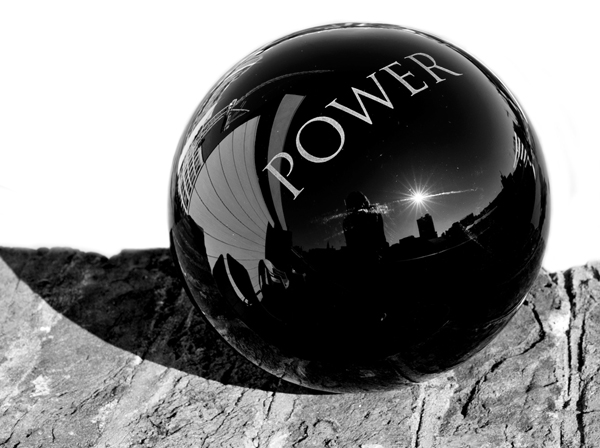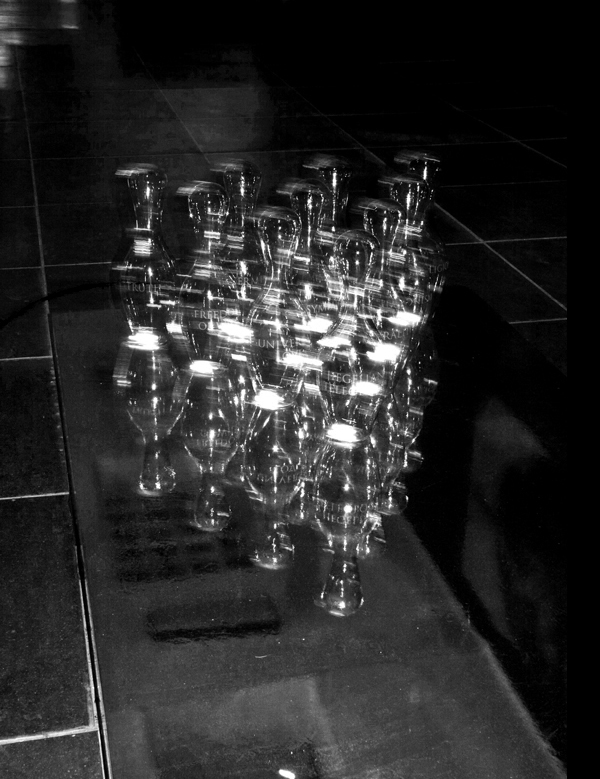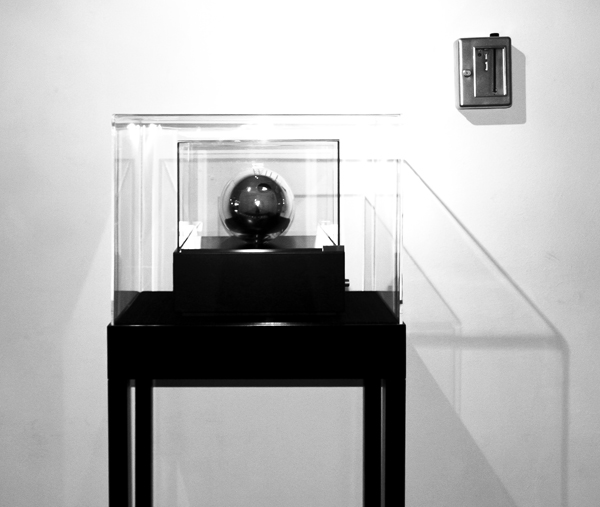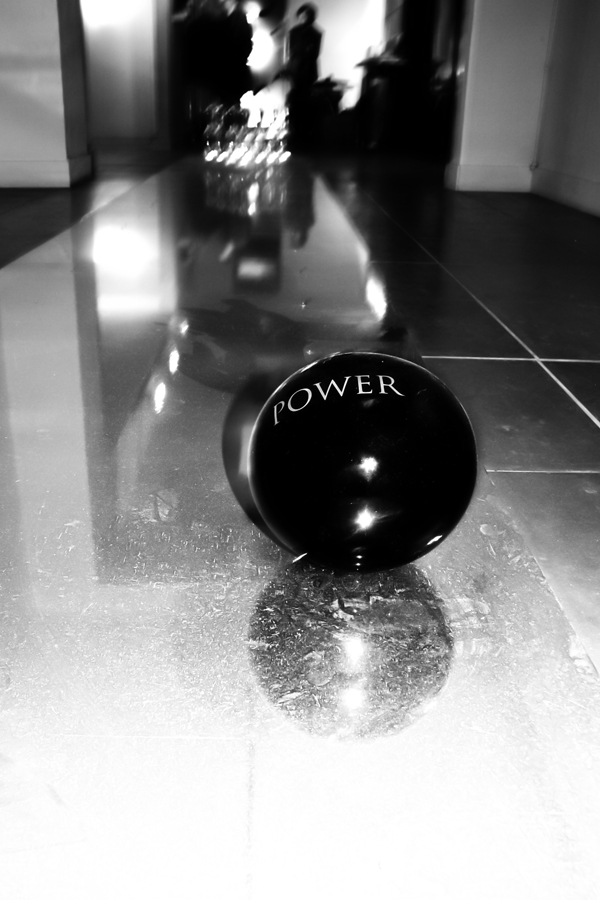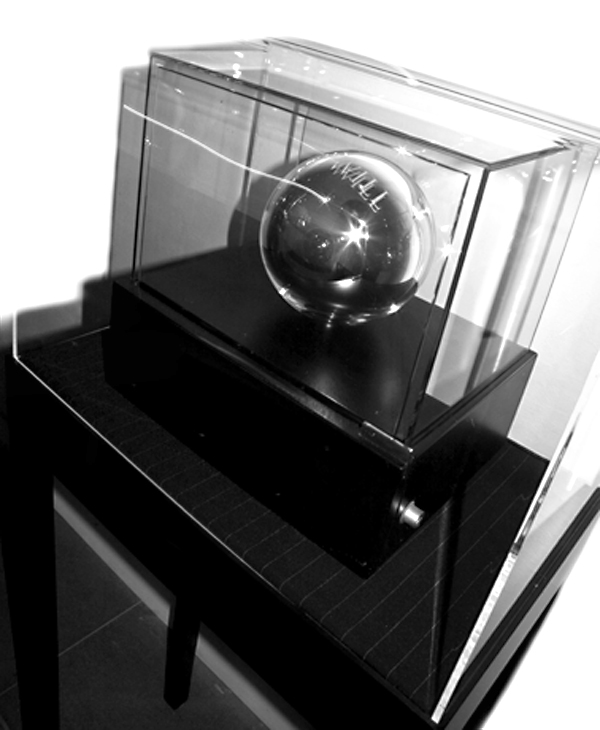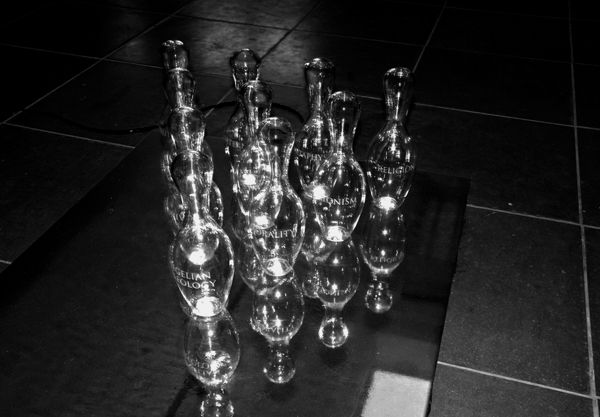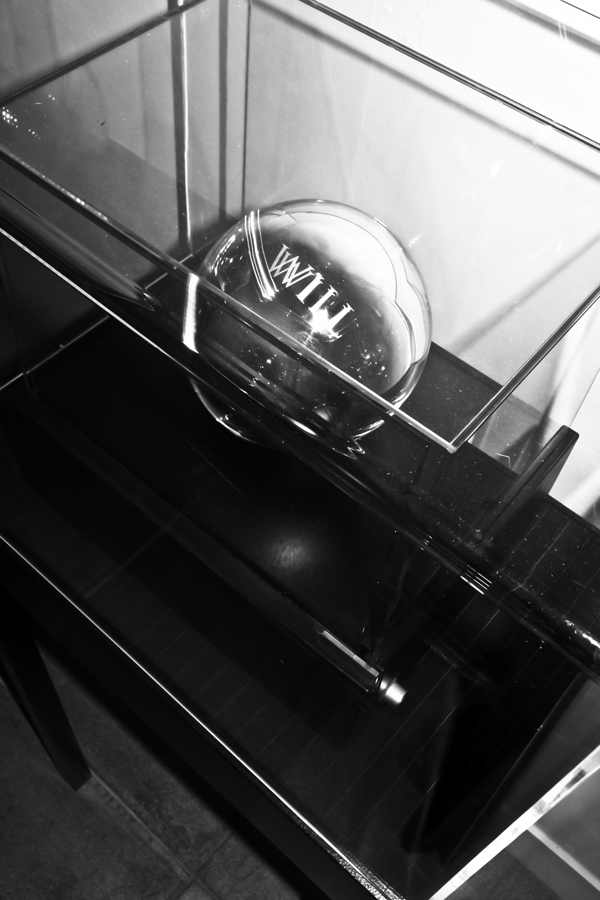 2008
glass, mirror, led lights, wood, safe, hammer / / 90 x 10 x 720 cm I 35.4 x 3.9 x 283.4 in (lane) 11 x 35 x 11 cm I 4.3 x 13.7 w 4.3 in (10 pins) ⌀18 cm I ⌀7 in (2 bowling balls)
– Nietzsche is perhaps the epitome of a macho philosopher, obsessed with Self, Power and the preeminence of Will. He was a "hammer philosopher", so keen on tools too. Bowling might be a little low class for him, but in this case he would be at home: the pins engraved with Religion, Morality, Truth, Universal Love, Metaphysics, Platonism, Sympathy, Freedom Of Will, Determinism and Hegelian Teleology represent the kind of absolute moral standards which he so vehemently rejected; the means of these concepts' destruction being his own Will to Power.
However the bowling balls are not at liberty to attack the pins. Power remains free but the will to use it is problematic. Furthermore Power is the ominous black bowling ball, while the restrained Will is a goodly silver locked away in a safe. And what emergency would be deemed justification to free the key, to use the hammer? Nietzsche would supposedly have no problem, simply the Will would be enough reasoning, his own hammer of philosophy would immediately use the physical hammer, take the key, free the Will and use the Power as he saw fit.
We suppose we should stress that opportunity to smash these illuminated pins is afforded the person who exchanges vast wealth in order to negotiate ownership of this artwork – but what a bowling night that would be! The physicality of it would be enormously pleasurable, and on the philosophical level? Nietzsche trashed some concepts we might need, or would it be useful to commission more pins, like Voodoo icons of those things we desire to destroy? Would that be our Will to Power though, or deeply held animosities emerging in cathartic mayhem? Something perhaps Nietzsche would also prefer not to explore.
As a practical manner one could bowl effectively with no such reservations, Power is free, the pins unprotected, the concepts weak before unconsidered brute momentum. The Will would not need to be freed; the "agent of Will" would be the bowler himself. Thus the impractical manner of philosophy is disregarded for the sheer practical nature of performing the act. An interloping bowler would have achieved a Nietzschean triumph over the concepts by providing their own Will to Power, their will to bowl. Roy Munson would be proud.