The Unusual Suspects
Karl May's tales of Old Shatterhand & Winnetou written in the 1890's, have provided simple entertainment with simple interpretations to teenage audiences since. The destruction of the World Trade towers on 9/11 also provided a teenage nation with a mythic scale spectacle upon which it could project differing conclusions. "Just who were the perpetrators?" – asked a stunned world in the immediate aftermath. And as ever, storytellers emerged to provide answers with tales of heroism, terrorism and conspiracy, competing for attention in the marketplace.
more about this work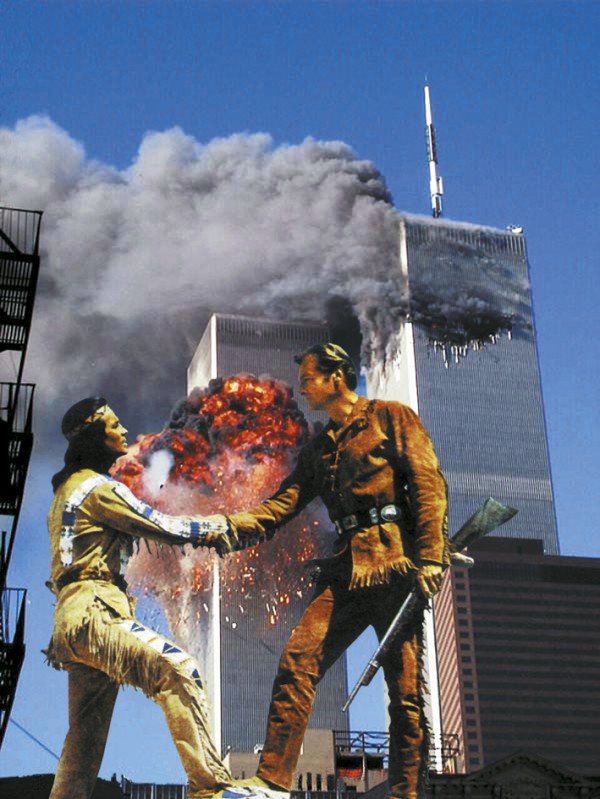 2002
digital print mounted on aluminium / / / / / / / / / / / / 130 x 100 cm I 51.2 x 39.3 in / / / / / / / / / / / / / / / edition of 10 + 2 AP
Who doesn't love a mythic spectacle more than a teenager? Or, to be more precise, those without full possession of the facts or experience to make sense of them are more susceptible to dramatic symbolism. And so Karl May enthralled the reading audience with his tales of Old Shatterhand & Winnetou, fulfilling his fans' appetites for the fantastic.
Cinema adaptations then multiplied the level of absurdity: an American actor meets a French actor playing an indigenous American in movies shot in Croatia And in true mythic style through shared adversity, a friendship is born. After all it's only the bad indigenous people who fight their invaders, they really should welcome them with open arms and greet them with flowers, as noted US humanitarians admonished.
In new stories as warmly exciting as the fake adventures of Old Shatterhand & Winnetou, Al Qaeda, the franchise terror group whose fondness for marketing its own myths is only matched by Western governments fondness for helping propagate them, gladly stepped into the role. They were conveniently, and coincidentally, everywhere the US had been wanting to attack for a long time. And now was not the time for critical reflection upon foreign policy according to the authors of the approaching wars.
To the many on the receiving end of real violence, they may be puzzled where their stories are to be told, with heroes & villains still demanding exclusive star billing in history.