Tell Me About Your Father
This hypothetical meeting presents the impossibility of questioning directly iconic figures. Writings, interpretations, analyses and re-appraisals allow the living to make their active peace with the burden of the dead's (or the risen-again's) legacy instead. In this case the power of the past becomes problematic when faith obstructs the living in these processes, both icons would acknowledge this but how much either would wish to tarnish their neon halo with encouraging us into free will and critical thought remains to be seen. Never meet your Gods, you're bound to be disappointed.
more about this work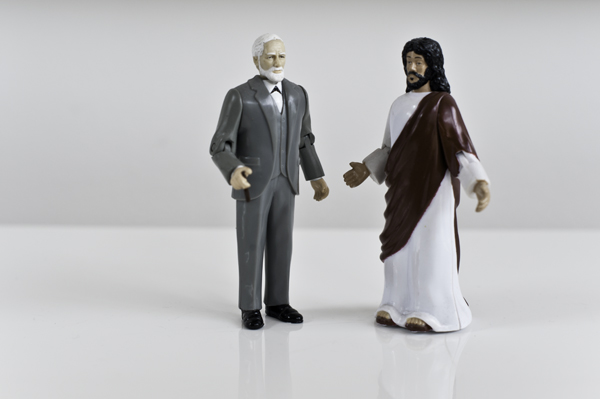 2001
Jesus & Freud action figures, neon, glass / / / figures 6 x 13 x 4 cm I 2.3 x 5.1 x 1.5 in each, neon ø 30 cm I 11.8 in / / / edition of 3 + 1AP
This is perhaps our attempt at making a devotional icon.We know Freud definitely existed and a person who later had the great stories and importance of Christ attached to their life possibly lived; him being the Son of God 'though is a leap of faith that Freud and others refuted.
..
Presenting these happy figures together could suggest Christ is as real as Freud, so Christians can relax. Sigmund might be an atheist but you can have the benefit of the doubt. It would be a clever question to ask him about his father, but Freud would have problems, as neither exist as deities to him.
. 
Also if the Trinity is to be analysed, Jesus is both his father, his son and the spirit that fucked his virginal mother… at which point psychoanalysts' eyes everywhere will be lighting up. This will take a lifetime of sessions, the second and third homes are assured!