Si vis pacem, para bellum
These are 4 replicas of Micro-Uzi's, Israeli sub-machine guns firing 9mm Luger Parabellum caliber cartridges, with a rate of fire of 1250 rounds per minute and an effective range of 30 metres. They cast two shadows in the shape of clockwise and counter clockwise swastikas. The viewer may choose which to contemplate, but only one at a time. So the 'good' swastika and the 'bad' swastika emanate from a common source, the Israeli–made German caliber firing weapons. Incidentally Parabellum is from the ridiculous and patently contradictory Latin cliché "Si vis pacem, para bellum" (If you seek peace, prepare for war).
more about this work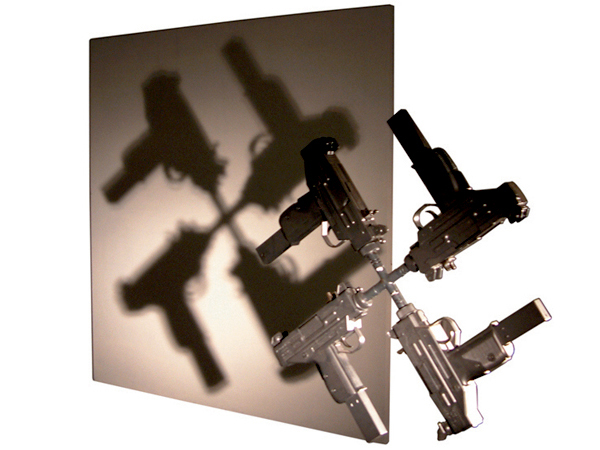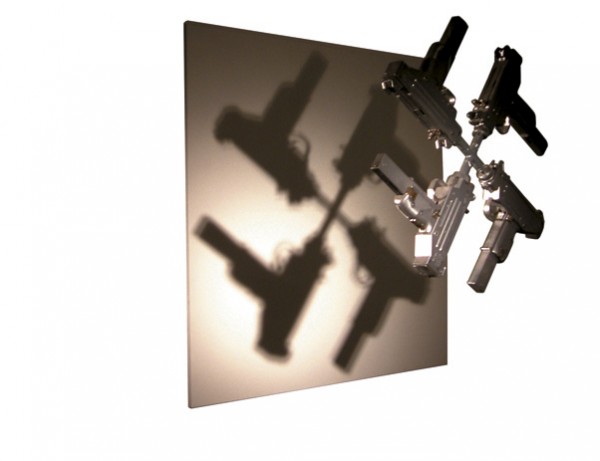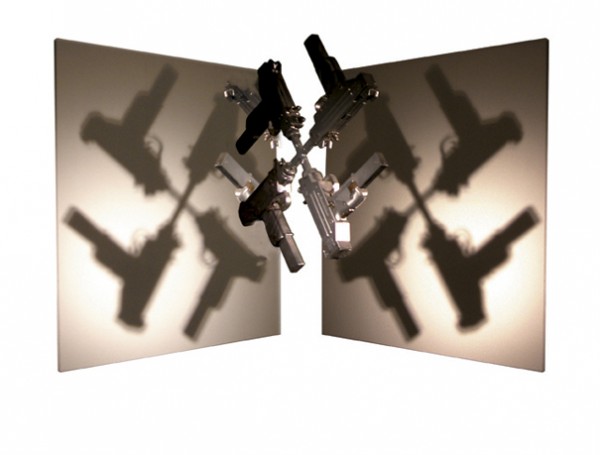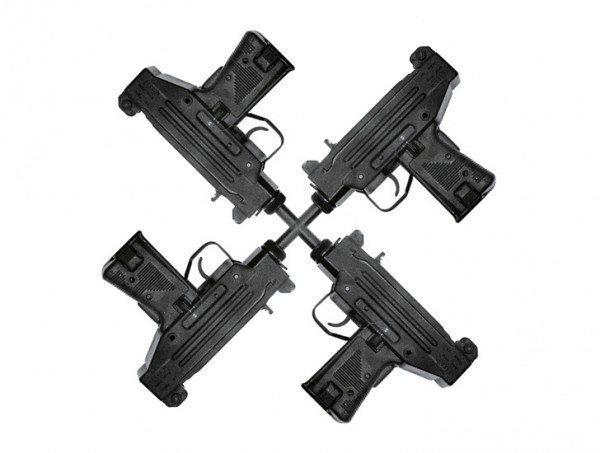 2002
4 replicas of Micro Uzi SMG weapons welded together with their barrels, spotlights / / / / / / / / / 60 x 60 x 5 cm I 23.6 x 23.6 x 2 in
A multitude of references, both cultural, political and moral are conjured in the chiaroscuro fallout of the swastika. A challenge to Manichean dualism and a depiction of the tension of the human condition to war and to make peace, to make tools for projecting violence that become cultural icons. Is the light 'though bringing us back to dualism? A particle/wave making light and shadow. However it should be accepted as the simple radiation it is, only we have the complexity to understand electricity bills…
As well as the symbol's differing meanings (and to the majority of the Earth's population it is a religious one) this work might also interrogate incipient fascism in the viewer. One feature of the fascist mind is to view enemies as an 'other' and deny any common humanity, to make rigid demarcation of entitlement and to punish those outside the boundary. So rather than take fascism as an alien force it is recommend to recognize its local source within common human experience. Thus acknowledged it can be confronted and resisted wherever it may lay its roots. The piece asks the viewer to situate themselves in respect to the shadows, choosing one or the other. But there is hope the audience discovers a more nuanced position, contemplating the commonality and their perception becoming less rigid, while being acutely sensitised to challenging fascism and singular interpretations.