Lebensborn Revisited
Hitler in this photo seems even more…Hitler-esque, extra prissy, and queerer than ever; ready to expel a bitchy sobriquet. He has ladies eyes, but not just any lady, eyes of Lady Di, the erstwhile British Princess of Wales.
more about this work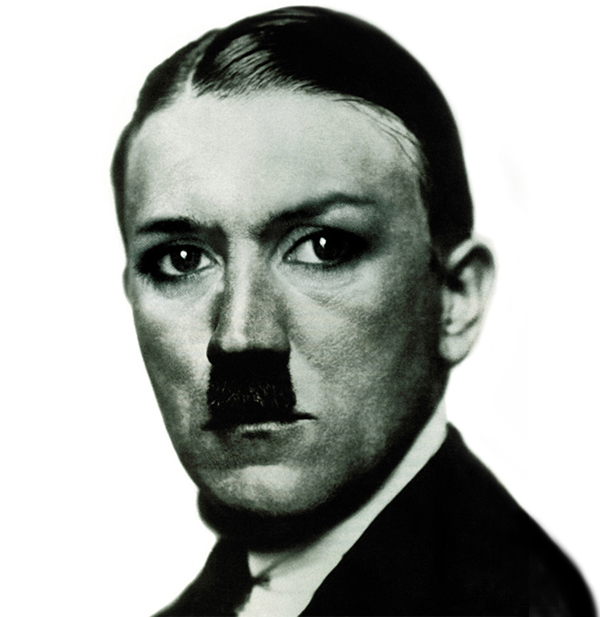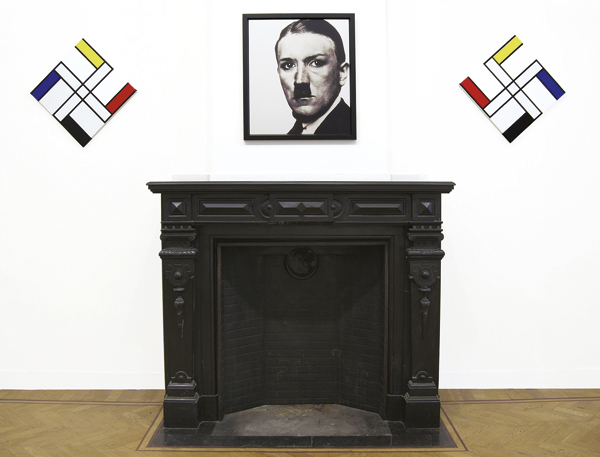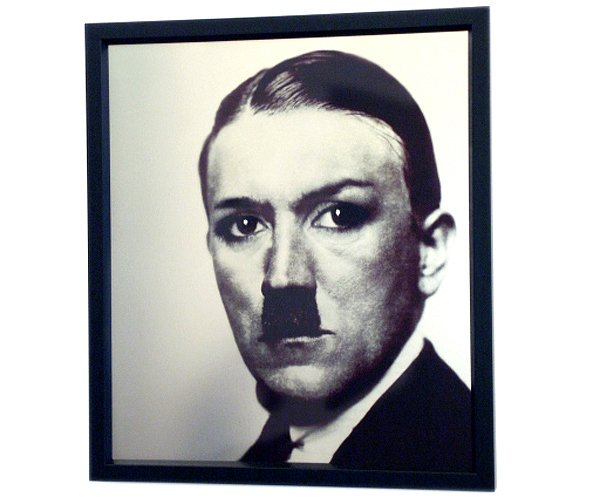 2005
framed digital print on mirror foil mounted on aluminium, fireplace / / / / / / / / / / / / / / / / / / / / / / / 62 x 71 cm I 24.4 x 28 in
So, is this good and evil together? The Queen of Hearts and the King of Bastards? Hitler did try to have what he considered perfect men and women breed to produce perfect children of the new master race, the "Lebesborn". Aristocracies do the same thing, Diana was brought into the British royal family to produce children, sufficiently blue blood but attractive enough to hopefully combat the increasingly inbred features of the royal line.
Royalty and Nazism have a central conceit in common: some people are simply superior to others. All Hitler did was apply a brutal scientific approach to this pathetic field. So good and evil? Or birds of a feather, both revered figures, leaders, and deities to many. But the juvenile part of us wonders: if through some space/time portal Adolph and Diana got it on, what would the sex be like? Would Donatella Versace and David Cameron cheer from the sidelines, would Leni Riefenstahl record it on digital video, live streaming to lebensporn.com? Would Di swallow his semen? Or secretly save it to pass on to girlfriends so they could have the leader's children too. Though not strictly reproductive I'm sure anal play would come in, and it would go on for hours, Adolph loved his amphetamines, Di her "diet pills".
The British royal family has much Germanic blood in it, Edward (former king) liked Hitler immensely, and put on a good dinner party, don't you know. The mere existence of royalty signifies eugenics, every royalist a supporter, every elitists a Nazi, Hitler fucking Di and Vogue would be the new Mein Kampf, perfect babies in perfect fashion. And for us deviants? Well the same as under Nazism as Royal patronage, bonded labour to keep the elite wealthy and powerful, death to the dissenters, and a good war every so often to make us all patriotic and to protect our innocent children.