I am not what you want me to be (Selfportrait)
The greatest heartbreak is realising you fell in love with an ideal that you can never change your partner into ... or it might perhaps be a blessed relief.
more about this work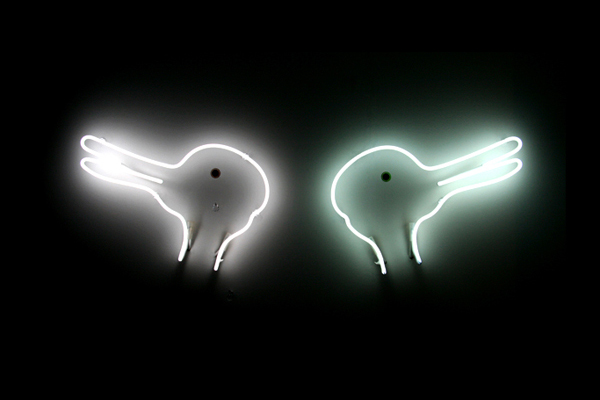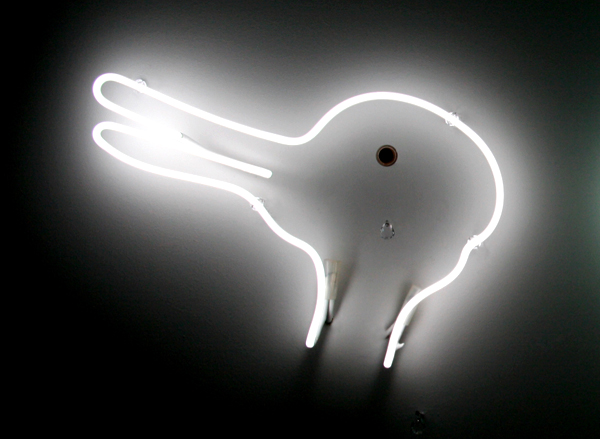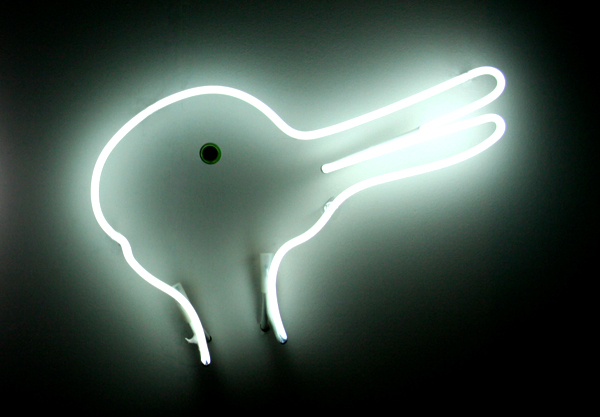 2008
neon, glass / / / / / / / / / / / / / / / / / / / / / / / / / / / / 130 x 50 cm I 51.2 x 19.7 in
This illustration was used at the turn of the century by psychologists to study how our mind learns to cope with conflicting images. The figure is either a duck facing left or a rabbit facing right. When both aspects are finally realized, ambiguity conflict occurs.
The Duck/Rabbit optical illusion allowed philosophers to assume that altering how we interpret what we see also alters more than just our own perception. So the rabbits face one another, or the ducks face away from each other, or the duck turns away from the rabbit, or the rabbit follows the duck.
.
A single tear falls from the left creature's eye, melodrama, tragedy or great joy? We can only inflict on these neon avatars our own interpretation and that shall be a personal story fueled by memory.
Ask not for whom the tear falls, it falls for you.
Quack-Quack.