God's Ways Are Unpredictable
In our shiny new remix of the Genesis fresco there is both a cross and a swastika to be found. Both are ancient symbols, although the swastika has far greater antecedence than the cross and must cause some consternation amongst other religions that one political movement in Germany (favourably treated at the time by the Vatican) has hijacked its associations in Europe quite possibly forever.
more about this work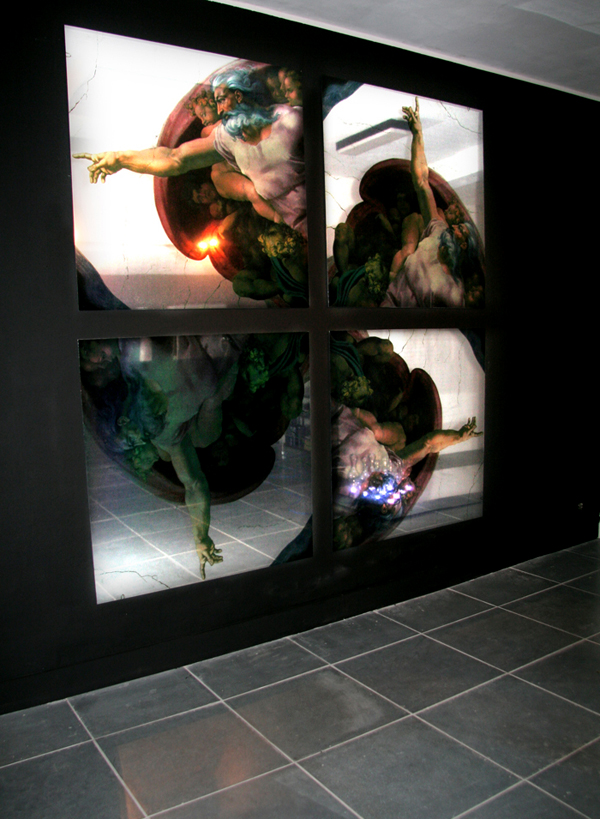 2008
4 prints on mirror foil mounted on aluminium / / / / 120 x 120 cm I 47.2 x 47.2 in each
– Michelangelo di Lodovico Buonarroti Simoni was contracted by Pope Julius II to paint the ceiling of the Sistine Chapel starting in 1508, he did not lie on his back for most of it and it was unveiled unfinished in 1512. If it had been on time, and to budget, it might be evidence of God's power, as anyone who hires decorators could attest. Perhaps as evidence of further industrial relations breakdowns, it has since been claimed by Rabbi Benjamin Blech that Michelangelo hid mystical Jewish symbols and satires of Papal corruption in the work. Before that, various others have seen evidence of anatomical representations, kidneys, bronchial tubes… and in the depiction of God and Adam from the Book of Genesis, brain and spinal cord shapes are insinuated into the scene. Dante Alighieri author of The Divine Comedy is also supposedly shown among the figures in the Last Judgment.
It is prescient that the hand of God giving life to Adam from the Genesis fresco is to be re-examined once more, particularly in light of the current Pope. If we are to accept the leader of the Catholic church is there by divine influence, Gods ways are unpredictable in the extreme. A former Hitler Youth, former head of the Congregation for the Doctrine of the Faith (previously known as the Holy Office of the Inquisition) and living with his rumoured partner Monsignor Georg Gänswein in the splendour of Vatican City. So a closeted hypocrite and authoritarian conservative representing the Church of an anti-imperialist Jewish revolutionary and peace activist. Oh Lord!
But that's God again for you, so unpredictable, such a cosmic prankster one might even conclude he/she/it is mimicking chemical chance just to test the faithful.