Bragolin Files (The Curse of the Crying Boy)
Could it be that a mass market kitsch print was in fact a Devilish plot to seed firebombs into the homes of the unsuspecting and aesthetically challenged? The Crying Boy is a print with a dark history of myth, terror and lies, in other words irresistible to artistic investigation...
more about this work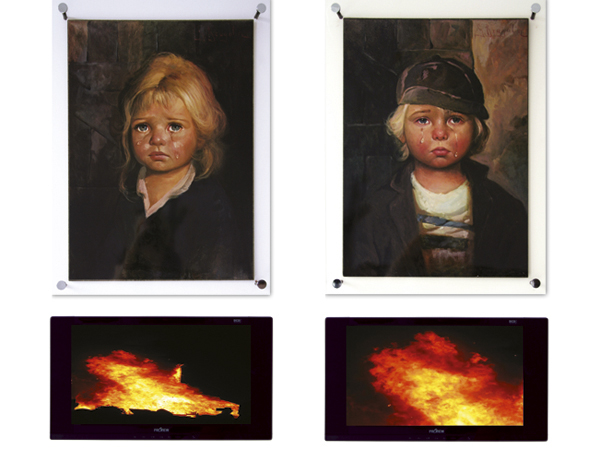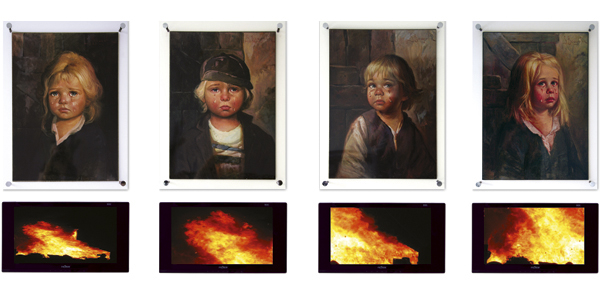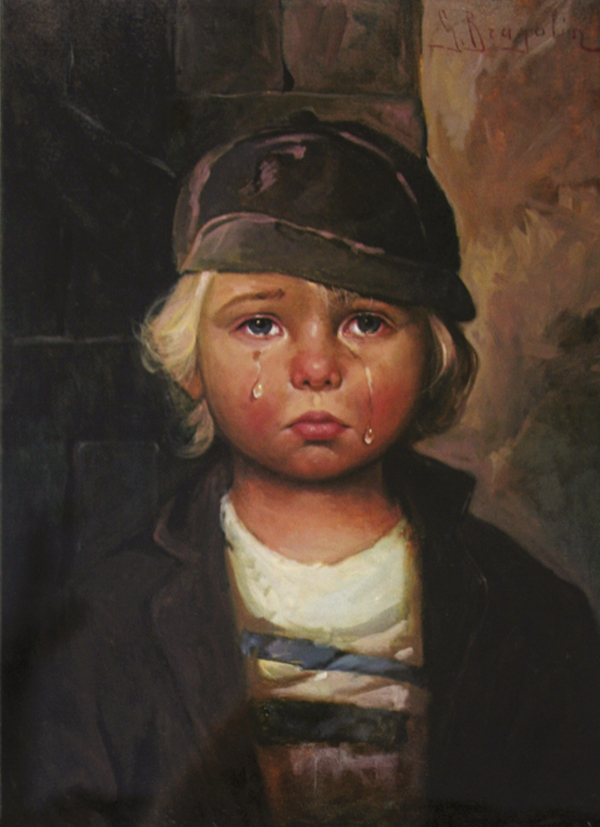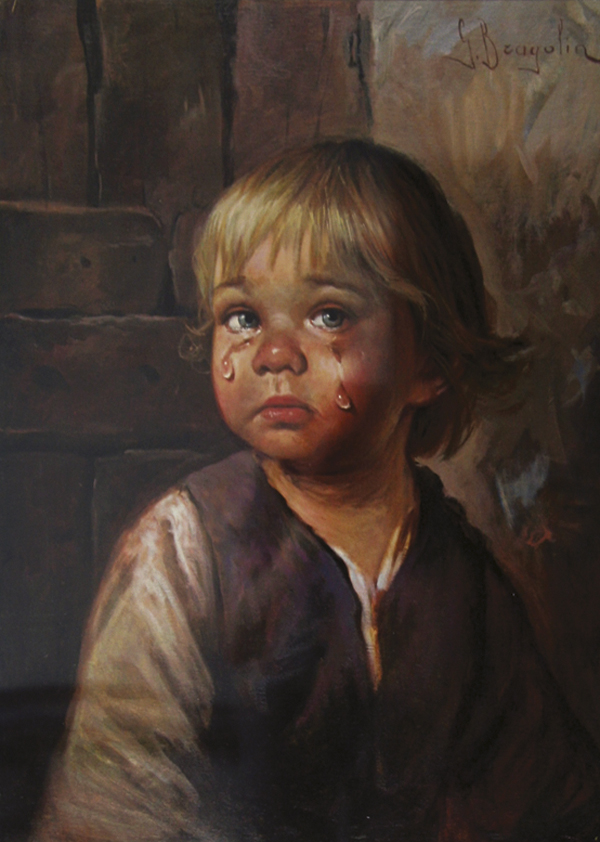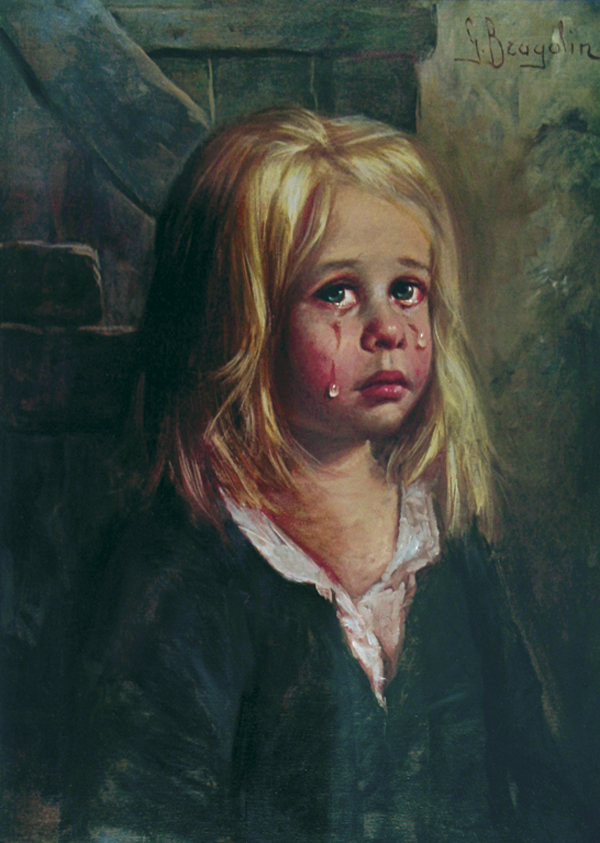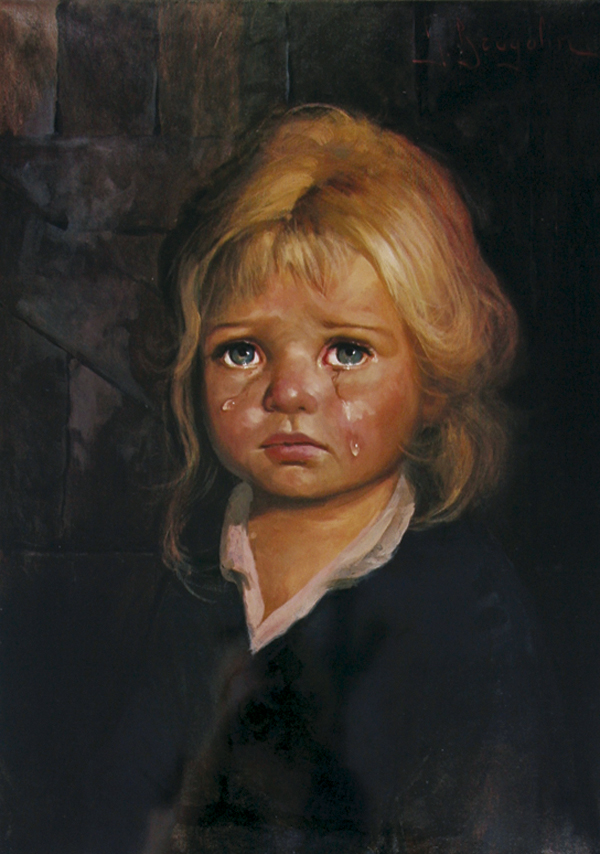 2007
reproductions of Giovanni Bragolin's paintings, fireproof glass, monitors, "Fireplace" video / / / / 60 x 150 cm I 23.6 x 59 in each
– The Crying Boy is a mass produced print of dubious provenance that through popular myth fuelled by tabloid media became a cursed talisman with satanic fire starting powers. Existing as a viral meme (even before such labels were coined) the painting became infamous when it was blamed for a series of fires in residences where it hung. Often credited to Bragolin who is claimed to have painted 28 such lachrymose children, some also say each child was or soon became dead! Thus we have taken great care to present this demonic pyrototem in flameproof cases, warmed only by the early fireside video loop created to simulate an actual cosy hearth. But are the powers of the dark arts enough to overcome such precautions? Or could a symbolic conflagration incite ignition in the minds of the faithful?
For the full horrific history of the Crying Boy phenomenon see Dr David Clarke's article here.
Testimonies of the baying mob

– That picture just looks like trouble you can just sense it by looking at the child like he is crying to get your trust. (GabrielX)
– There was a documentry on Channel Four last year all about this painting, it too said that the original artist was Spanish. The Sun newspaper did a huge story about the painting and asked all its readers to send in their copies of the painting to them and they would destroy them. And guess what… a fire mysteriously started at the warehouse where the paintings were being stored… (Halo_Jones)
– What I don't understand is why this artist is soooooooo infatuated with crying children. The paintings are very well done, almost life like…. but why? Why are these children all crying? Why is it they look like they are terrified of the artist himself…….. this is what puzzles me (Mystify)
– I remember hearing about this way back in the late 70's , so the story is fairly old . I remember neighbors of ours had one of the paintings in the Hall, although the house was still standing 20 odd years later when saw it last. *shiver*. I must say I don't like the look of these paintings though and it must be really bad fueng shui (Kismit)
– If I post the picture here, will our computers blow up? (The Mad Baron)
– My Grandparents had this painting in the late seventies and the fire starter rumor was going around then. Their house didn't burn down, but my mother made them throw it out as it was a bit creepy how the child was the spitting image of me. (Daidavies)
– Do you expect me to believe that the sun makes up stories? As if they would do that. (Marleyb)
— Saw a show on the telly where they set a copy of it on fire. Took a little while but the little bugger burned! (Sirk)