Suicide Commando
Two pigs wearing suicide bomb belts accompanied by the artists will meet visitors at exhibitions, stroking may be allowed. Treat them well, pigs (much like artists) are an unfairly maligned creature, highly intelligent, with a keen sense of smell. They are nevertheless farmed for food, their only respite coming from vegetarians, muslims and jews, who all refuse to eat them. However the religious groups see them as unclean which has led to some unfortunate ideas. Stories multiply how they are to be deployed in the already farcical "War on Terror".
more about this work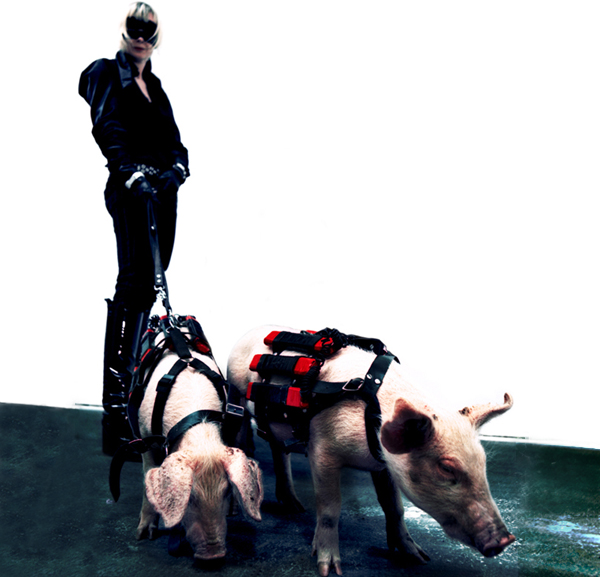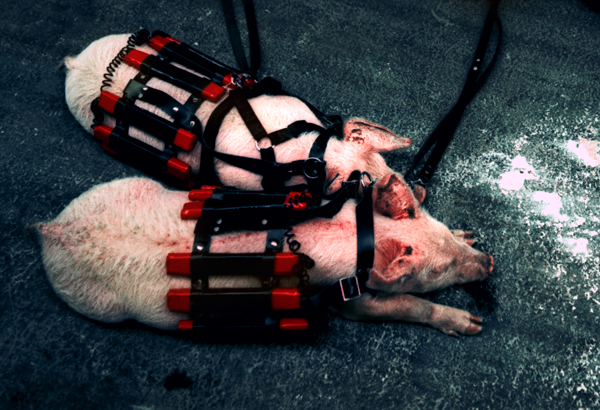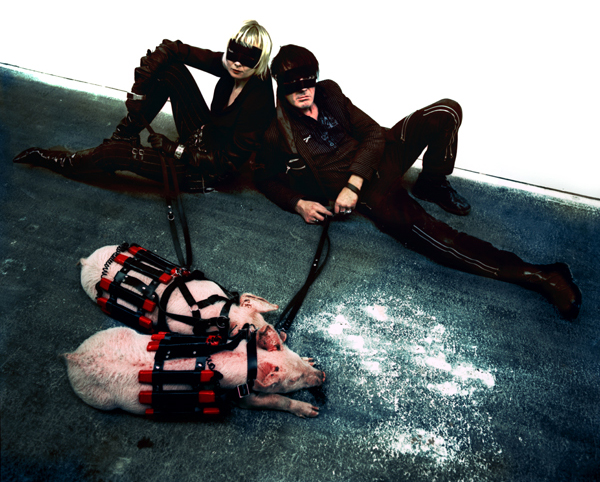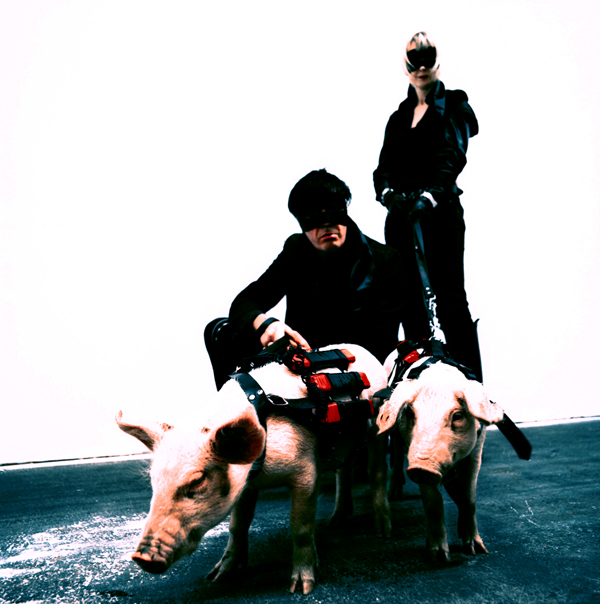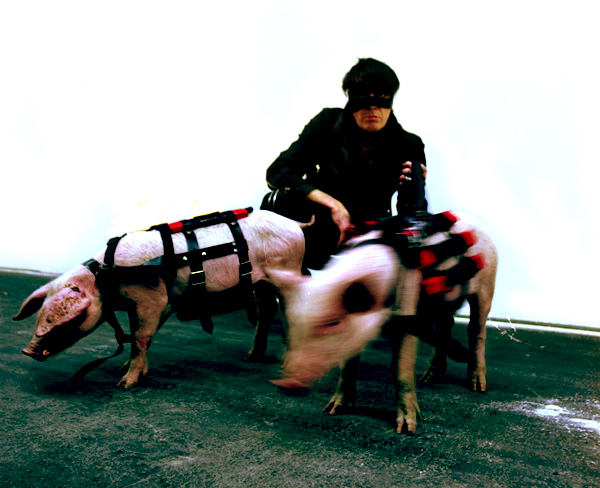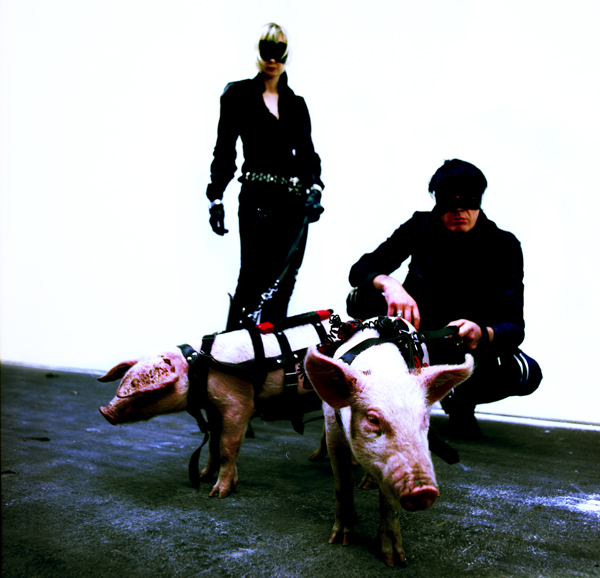 2007
performance / / / / / / / / / / / / / / / / / / / / / / / / / / / / 2 living pigs, leather, tape, wire, explosives installation / / / / / / / / / / / / / / / / / / / / / / / / / / / / / / taxidermied pigs, leather, tape, wire, explosives
Pigs will fly! – in planes to deter terrorists afraid of their porcine presence. But this jet set piggy was lucky compared to the air force pigs who – it was suggested – should be dropped on Taliban strongholds. The historical rumour that pigs' blood was smeared on firing squad bullets when US marines executed islamic resistance fighters in the Philippines. Suicide bombers bodies buried in pigskin by Israeli propagandists seeking to deny the dead their paradise of deflowering multiple virgins. And in all this the poor pig is but a pawn of warfare and religious terrorism.
Suddenly the strict rules of religion are bent to accommodate the pig's entry into warfare. A leader of Hamas stated that burying suicide bombers in pigskins wouldn't stop martyrs from entering paradise because their motives are so pure. Conversely if a hassidic jew, who is not allowed to have physical contact with pigs either, can bring potential terrorists to other ideas by burying them with pigs, it is allowed. But what is the source of these ham-fisted attempts at bacon-enabled psy-ops?
The gossip over the fence has become globally, digitally amplified as the naïve and credulous tell each other stories of how evil the 'others' are and what cunning plans could be enacted to hit their weak points. The pig as weapon has become a folkloric device, as powerful a totem as a crucifix against a vampire. But now pigs, in line with other poorly resourced guerrilla movements are adopting the suicide bombing methodology. Perhaps they have watched Coppola's Godfather films (in one sequence Michael Corleone witnesses a suicide bomb attack in Cuba; he reasons it is time to withdraw his interests from the country because against that kind of conviction his bought politicians will not prevail).
It is this grit and determination that will usher in the pork dawn. They do not have multi-million dollar warplanes, laser guided missiles or helicopter gunships. Despised by the godly, eaten by the hungry their patience has worn thin. Now we will pay.