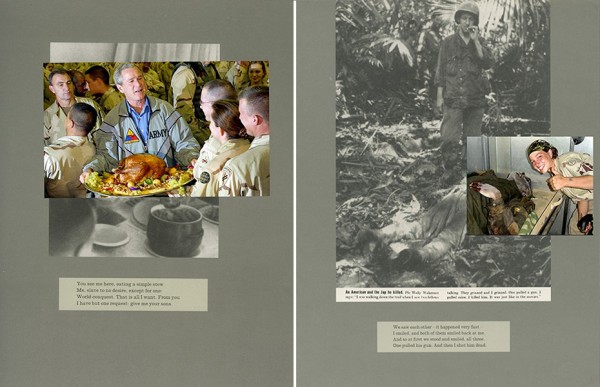 The Photographers' Gallery presents yearly works from four finalists of Deutsche Börse Photography Prize, a recognition given to a living photographer of any nationality for a specific body of work which has significantly contributed to photography in Europe. The 17th edition finalists are Broomberg & Chanarin, Mishka Henner, Chris Killip, and Cristina De Middel.
Our vote goes to Broomberg & Chanarin, two London-based photographers who make work that shifts between art and documentary, while commenting on politics, society and the role of media. They are nominated for their publication War Primer 2, a work inspired by Bertholt Brecht's 1955 publication War Primer. In his book, Brecht challenged the truth-telling capacities of photography and media with help of 85 photo-epigrams: photos and newspaper clippings about the WWII, each combined with four-line poem.
The artists have translated this work to our time by overlaying the original work with imagery found on the Internet about War on Terror. True to the digital age, once the self-produced limited edition of 100 was sold out, they produced a free unlimited digital version combining essays with a screen-based rendition of the book. The book is available for download on Mapp Editions.
The Deutsche Börse Photography Prize 2013 will be on display at the Photographers Gallery till June 30th.