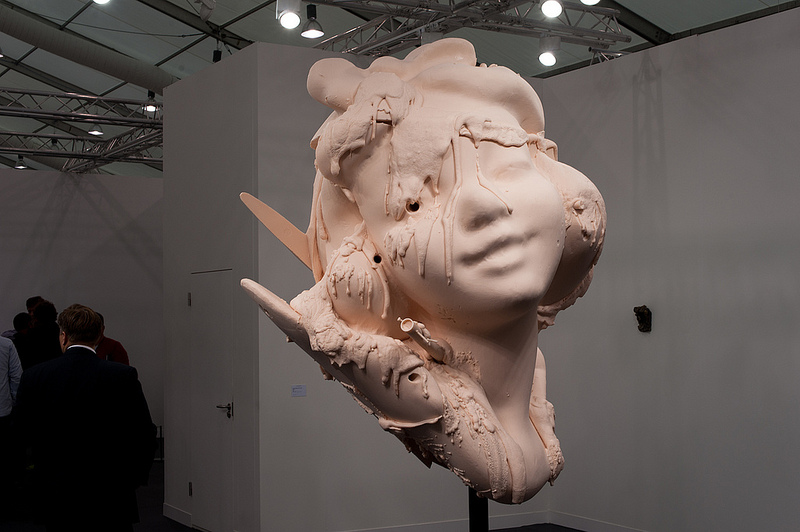 This year's Frieze is pretty good and although we spent there most of the afternoon yesterday, we've definitely not seen everything. Here are some pics of the pieces and stands that caught our attention. The most spoken of artwork of the fair is probably Paul McCarthy's brand new Snow White Head sculpture, part of the Forest series (now in making and to be exhibited on the next NY Armory show) – it's on display @ Hauser & Wirth and it was sold within the first half an hour for $1,3 to an unknown lucky bastard. Staying in the pink realm, don't miss this lovely walrus, stranded a few steps away from H&W, at Larry Gagosian. White Cube stand looks pretty good too, our fav probably being Elad Lassry's series of photos ($9000/piece), but wouldn't say no to Heim Steinbach's Darth Vader helmet either. Pace gallery has captivating new series of Hiroshi Sugimoto: photographs of wax figurines of Henry VIII and his six wives. And we also enjoyed these golden & silver busts @ Greengrassi.
There's a great selection @ the Frame too: Prague-based gallery SVIT shows photos of Lukas Jasansky & Martin Polak and we recommend to have a chat with the very friendly gallery owners to get more feedback on the background of the artists. NY-based Bureau shows these very intriguing tiny sculptures of Matt Hoyt, that seem to come from another time or/or dimension. Ramiken Crucible has some curious-looking collages by Lucas Blalock and Canal 47 shows installations of Josh Kline's, dealing with branding, fashion and consumer products.  There's plenty of other exciting stands in that section, so we'll be back for more and will also report in further detail about the work of some selected artists.
Pieces and stands which you shouldn't miss on the other side of the tent and in the Focus section: great works by Romanian artist Cristi Pogacean (we particularly liked his series of warfare pieces turned into monuments), the stand of Brussels' based Dépendance gallery, Antwerp-based Micheline Szwajcer and Galeria Plan B from Cluj/Berlin.
Not to forget also the Frieze talks: Brian O'Doherty yesterday was a big revelation and today's Deeply Superficial about the phenomenon of the stock image @ 1:30pm seems like a must-hear as well. So running now to get there in time for it! :-)