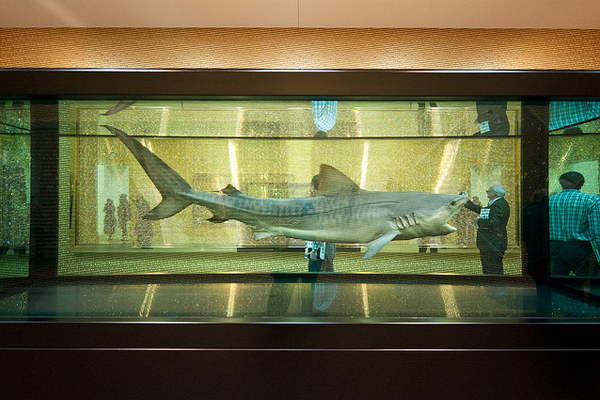 We attended the press preview of the Damien Hirst's retrospective at Tate Modern this morning and captured a photo set of 115 images to excite the eye. At a time when conservative forces are attempting to delegitimise Hirst's work, the breadth and strength of the displayed pieces are a solid rebuttal to accusations of con artist and dilettante.
The show brings together more than 70 key works from Hirst's oeuvre, from the amazing A Thousand Years (installation of cow's head, flies and insect-o-cutor), The Physical Impossibility of Death in the Mind on Someone Living (shark in formaldehyde) and Mother and Child, Divided (bisected cow and calf in formaldehyde), through series of medical cabinets, butterfly, spot and spin paintings and includes 2 major installations: The Pharmacy and In and Out of Love. In and Out of Love, with live butterflies flying around and landing on visitors – thus making them part of the piece – is, on its own an experience not to miss. And as a shiny last stop, the For The Love of God (diamond skull) is on display @ the Turbine Hall till June 24.
The show opens for public on April 4 and will stay on display till September 9 2012. It is, without any doubt, a must-see. Watch the photos and believe the Hype!