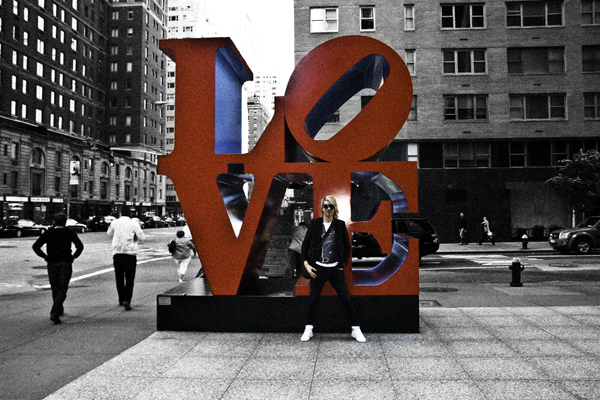 The must–have piece for any serious art lover or art collector. Of a striking appearance, conceptual depths, timeless appeal and other rare qualities, this objet d'art will make your social circles green with envy and your position as a true expert, dedicated aesthete & ruthless negotiator granted. Its unquestionable authenticity and first class provenance add further to the value. In other words – it's brilliant!
How unfortunate for you that there's only one original (no copies and artist's proofs, sorry) and that one's off the market!
(but maybe you could at least have the Robert Indiana multiple in the background)
Happy Birthday to a unique and irreplaceable piece of art ;-)
xxx
Edit from François Joseph I wish to raise my voice strongly against this blatant favouritism towards The Great Attractor. While there is no doubt that he is highly attractive, extremely clever, good with words, attuned to design, sensitive to advanced artistic concepts and cognisant of enterprise management, he… Wait, what? OK, Intelligensius Anarchus is probably right. Happy Birthday, Ô Fearless Leader! I love you too (albeit differently).
Update from RickB: This is embarrassing, if as Intelligensius Anarchus says, The Great Attractor is a one off then who do I have locked in my basement? This is the problem with back street cloning and unscrupulous art dealers (tautology alert), they just can't be trusted. I mean he looked genuine enough, had the mischievous ways, the panache and generous humanity, but now, just a pale copy of the priceless original it seems. Well I'm going down there and taking back the birthday special extra helping of gruel and moving him to the multiples room where I keep that Warhol corpse & the Shepard Fairey edition who just won't shut up.
May you birthday be totally Koonsian!