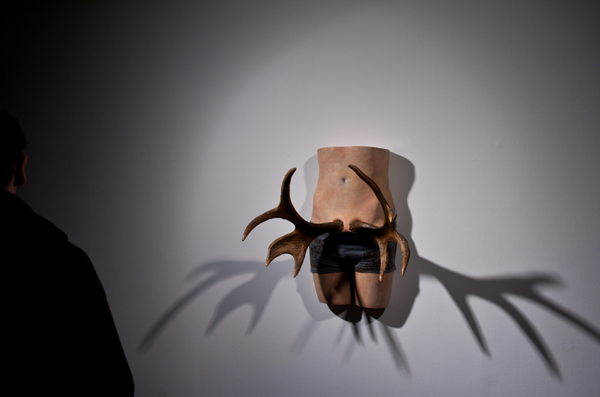 On the first Thursday of every month East London galleries and museums open their doors late for a chance to see art, culture and events after hours. Two main areas of concentration are Shoreditch, around Old Street, and Hackney, around Vyner Street. So last Thursday evening we went to the Hackney, and from the many shows we've seen, this one really stuck in our heads: Walking in My Hunting Ground, solo show of Estonian artist Marko Mäetamm in Nettie Horn.
Marko Mäetamm presents the act of hunting in amusingly twisted variations. In the watercolor series "Our Daddy Is a Hunter" texts written on a wall tell an innocent child story while being accompanied by a psycho-looking like illustrations. The work Trophy shows a male torso with antlers creeping out of the pants and 3 animations revisit tales such as the Little Red Riding Hood.
The show runs till the 1st of April, so drop by if you can, it's really worth it!
(And if you go to the artist's website check also the hilarious "Postcards from Paris" series)