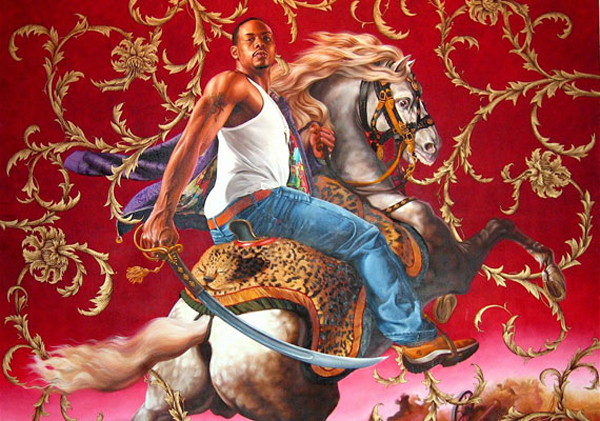 Kehinde Wiley, Los Angeles-born and New York-based artist paints portraits inspired by the Old Masters such as Reynolds, Titian, Ingres and alike. Bearing plenty of historical references and perfectly in line with the historical portraiture style, only instead of old European royalty, warriors and noblemen they present African American heroes of contemporary culture. In Wiley's paintings Ice T takes on Napoleon's pose and Grandmaster Flash with the Furious Five get transformed into a seventeenth-century Dutch civic guard company.
Kehinde Wiley is currently exhibiting works from his latest series World Stage, exploring the global diaspora, in the Jewish Museum in New York. World Stage, Israel paintings are based on photographs of men from various religions and ethnicities living in Israel. The decorative backgrounds are based on Jewish ceremonial art.
In May this year Wiley's solo show opens @ Sean Kelly Gallery.