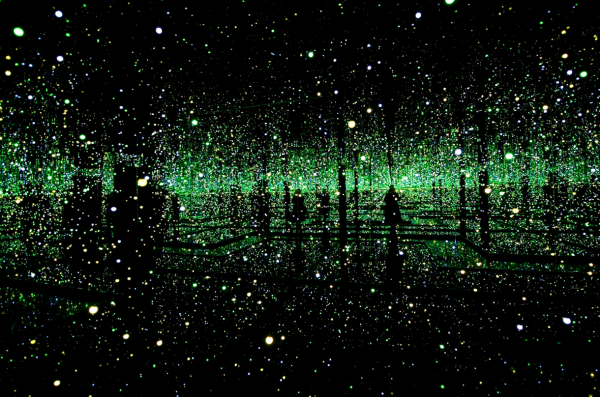 Opening this Thursday @ Tate Modern is a retrospective of Japanese artist Yayoi Kusama, showing a wide range of her work since the 1940s till today. Kusama, which is especially known for her playful polka-dots sculptures & installations (if Hirst is the King of dots, then she's the Queen), is also an accomplished painter, writer and poet. This exhibition will highlight the moments of most intense innovation from the almost seven decades of her career – starting with early series of oil paintings and works on paper, through the minimalist and almost monochrome Infinity Net Paintings (late 50s and early 60s), followed by series of so-called Accumulation sculptures and later on large sculptures and paintings from the 80s and 90s.
Probably the most fascinating and visually striking pieces are 2 room-size installations: I'm Here, but Nothing (2000/2012) – a darkened living room, where all objects, including walls, floor & ceiling have been covered with fluorescent polka-dots; and Infinity Mirrored Room – Filled with the Brilliance of Life – a 3-dimensional depiction of infinite space, using mirrors, LED- lights and water. Before you enter this space, a sign on the wall warns you that the effect might have a disturbing to some visitors. We can confirm that experiencing it is indeed hallucinatory – in the best sense!
The exhibition runs till 5 June and is most definitely worth the trip (pun totally meant). After Tate, the exhibition will travel to Whitney Museum in NY.
As a teaser, see our photos from today's preview.
Might also be of interest:
on Saturday 24th of March, from 1 to 6pm, you can visit Infinite Kusama – a special event organized by Tate Modern, which specifically targets young audience (& is free if u're aged between 15-25). The event will include fashion and sound workshops, a silent disco and most importantly an online competition of which the lucky winner will have the opportunity to travel to Japan & visit Kusama's studio.