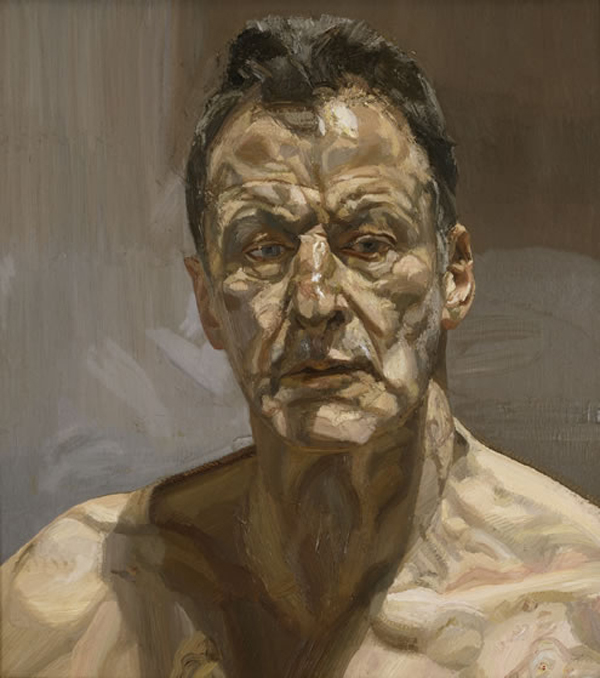 The long awaited Lucian Freud's solo show Portraits opens this Thursday @ National Portrait Gallery in London. As the title suggests, the exhibition focuses on portraiture – a central theme in Freud's work – presenting over 100 paintings and works on paper loaned from museums and private collections throughout the world, some never seen before. There is a 70 years time span between the earliest work on show, painting of Freud's art college tutor Cedric Morris (1940) and the latest one, Portrait of the Hound (2011), depicting Freud's pet dog Eli and his studio assistant David Dawson, which was left unfinished on the easel when Freud died last year.
Although Freud's death has made the exhibition a retrospective, it has been prepared in close collaboration with the artist during the last five years. Described by him as 'people in my life', Freud has selected portraits of friends and family who sat for him over the course of his life, including Francis Bacon, David Hockney, his mother Lucie or Frank Auerbach, all demonstrating the psychological drama and observational intensity of his work.
The exhibition runs till May 27th and it is a unique chance to experience the great body of work of one of the greatest painters of our time. Don't miss it!
Images of paintings:
Reflection (Self-portrait), 1985
Portrait of the Hound (Freud's pet dog Eli and his studio assistant David Dawson), 2011 / unfinished
Benefits Supervisor (Sue Tiley), 1995
Portrait of David Hockney, 2002
Naked Portrait (Kate Moss pregnant), 2002
Portrait of Francis Bacon, 1956-57
and photograph of Lucian Freud working at night in his studio, taken by David Dawson in 2oo5