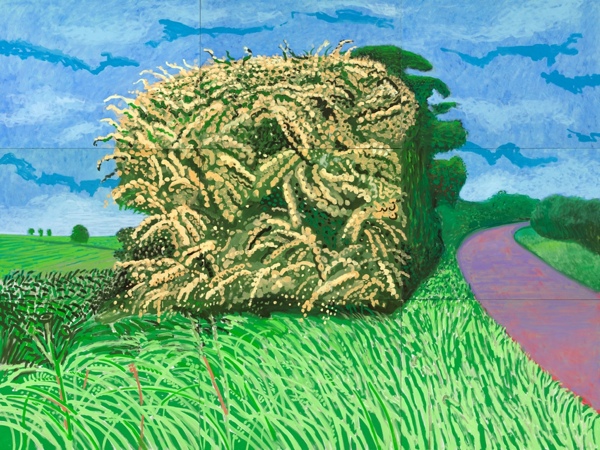 David Hockney's latest show at the Royal Academy of Arts, somewhat amusingly entitled A Bigger Picture, is, as the artist himself is keen to point out, anything but a retrospective. Focusing on large-scale paintings and installations, the exhibit bursts with colour, technology and novelty. While a few traditional pictures, from oils to photo collages, are provided for context and contrast, it focuses almost exclusively on the painter's « new style » and new media, up to the very last few months, including iPad printouts (you read that right), never-before-seen sketches, video montages and even pieces composed especially for the gallery's grand space.
In this sense, the Hockney Exhibit, as it is known colloquially around town, packs as much punch as the launch of a cutting-edge artist in an upcoming gallery. It offers new challenges to the viewers, inviting them to look at the work of a respected artist through the questioning and interrogative lens that is usually reserved for ambitious nobodies.
Hockney's vibrant works constantly fool the eye and the mind by playing with colour, perspective and distance. His repetitious series offer insights into a perpetually moving world, constantly in motion but curiously devoid of human or animal influence. His refusal to conform, even and especially in his later age, encourages us to examine his work with critical eyes and puts his entire career in a new light.
Enjoyment has less to do with A Bigger Picture than thought. There is a no doubt this is a must-see show, even though the ultimate quality and interest of the works, once analysed outside of Hockney's self-referential world, remains open to much debate.