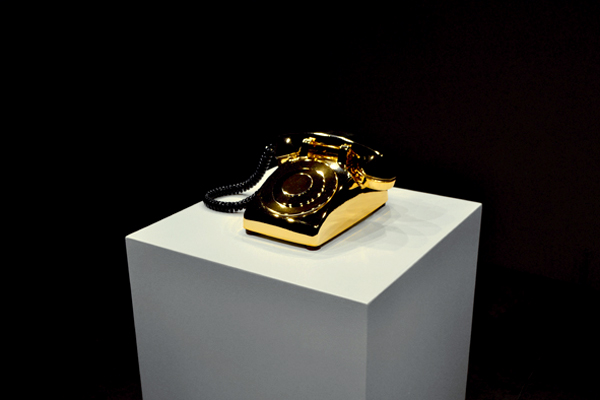 Congratulation to "golden boy" Filip Gilissen on his fantastic show Knowing Me Knowing You @ Wilfried Lentz gallery in Rotterdam. We take the liberty to "steal" the wording of the press release, explaining well & clearly concept behind Filip's installation, that also made part of this year's Art Rotterdam: For his new installation Filip Gilissen takes the gallery as main subject and transforms it into an ironic vehicle during Art Rotterdam. "Knowing Me Knowing You" is a set of 10 golden flickering digits hanging from a 3 x 4 meter steel frame and appearing mysteriously in the public entries to the VIP-openings during the art fair. The advertised number, reminiscent of a prank call hotline, is in fact the private phone number of Wilfried Lentz, and is connected to a synthetic golden phone displayed in the darkened gallery space. Gilissen hereby alludes to the solid golden phone that appears as a relationship gift in the Havana episode of The Godfather: Part II. Hence, in the gallery set up, the golden 'non-dial' phone equipped with a blank-off plate in place of a dial, can only receive messages from outside callers who respond to the teaser, or from relatives and close friends of the gallery owner who would naturally call him.
Alongside "Knowing Me Knowing You", two other works are displayed in the gallery: "We Have Met Before Haven't We?", a small metal golden phone index containing all professional gallery contacts, presented tantalizingly half-open under the protection of gold leaf and glass vitrine, and "I've Been Waiting For You", a delicate crystal and gold door handle, that might have provided the longed for means to get a 'foot in the door', if they weren't so delicately fragile that they would likely shatter if touched.
Using the language of commerce, marketing and media representation, Gilissen gives a diabolic comment on the more cynical aspects of globalization and consumer driven politics. He explores through events, performances, and installations, the one-liners of the spectacle industry. 
(all photos courtesy of the artist)