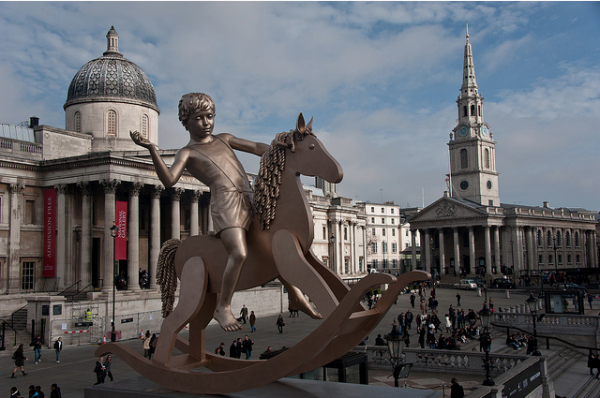 The Fourth Plinth Commission this year went to Scandinavian artist duo Elmgreen & Dragset. Their approach was to directly engage with the history of the plinth, originally designed to host a statue of King William IV, by challenging the tradition of equestrian statues. The result – a playful alternative of a warrior astride his horse – was unveiled this morning.
Titled Powerless Structures, Fig. 101, the bronze statue of little boy sitting on a rocking horse, is overlooking the Trafalgar square. Innocent in expression but impressive in scale – and through his strategic position in relation to the surroundings. He might be a younger brother of Charles Ray's Boy with a Frog, both minding their own stuff and oblivious to the powerful world at their feet. As we went up about 7 metres high above the square in a special crane to photograph the little bastard from above, sun shining and great views spreading in every direction, we decided we really love the piece! It's all about the settings & the right presentation after all, isn't it! ;-)
Our photo set from the unveiling is, as usual, on Flickr. Have a look!
Elmgreen & Dragset's statue will be on display till Feb 2013. After that it will be replaced by Katharina Fritsch's giant blue cock!
Might be of interest:
Elmgreen & Dragset are giving away up to 5,000 limited edition digital artworks, which have been specially created to commemorate the Fourth Plinth commission. These will be available free until 5pm GMT on Friday 24 February at www.seditionart.com/elmgreen_and_dragset/powerless_structures.
(we've just purchased piece nr 1099 – meaning there's still enough for all of you. the deadline is today at 5pm, so hurry! ;-))
Fourth Plinth Programme aims to trigger public debate about contemporary art in London's public spaces. You can get involved in the debate via facebook or twitter.