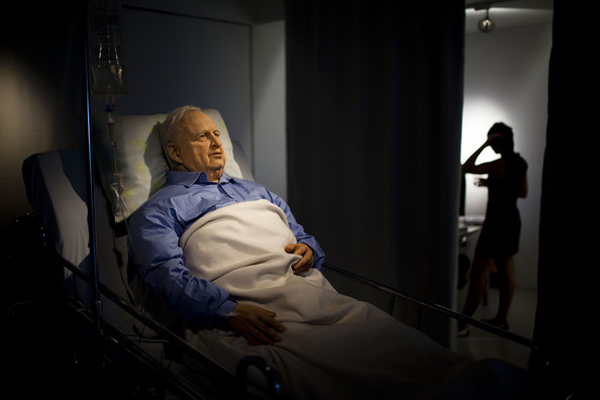 A life-size art installation by Israeli artist Noam Braslavsky depicts statesman Ariel Sharon lying comatose in a hospital bed. The former Israeli Prime Minister has been in a permanent vegetative state since suffering a stroke in 2006. The work can be read as an allegory for Israel situation, not an allegory for the economical and standing Power of it, but as reflection to an emotional State of mind, that moves sometimes, like a wave in part of the Israeli society (quote of the artist).
(HT Kenny Schachter)
The statue of Ariel Sharon is going be exposed in Dox museum in Prague as of the 25th of January 2012. It will be shown – like in Tel Aviv – imitating a private hospital room where the visitors are allowed to visit one by one or as a couple only and intimated with the sculpture.