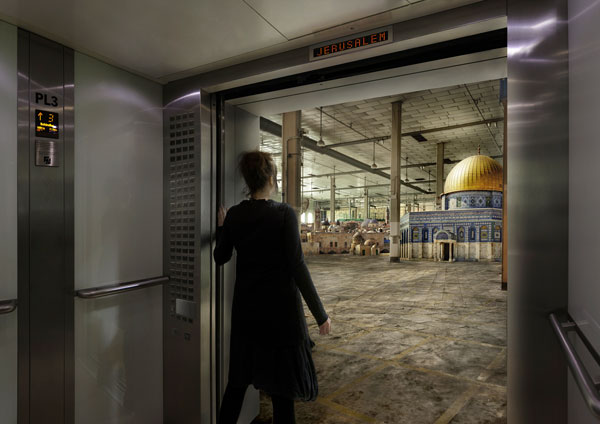 Lacoste, the rag maker of choice for the fashion unconscious, has found that Larissa Sansour is just a bit 'too pro-Palestinian' for their taste in upscale banality. Her work 'Nation Estate' was nominated for the €25,000 Lacoste Elysee Prize awarded by the Swiss Musee de l'Elysee, but mysteriously the polo shirted chumps at Lacoste misplaced their taste & spine and had her removed from the nominations, then-
In an attempt to mask the reasons for her dismissal, Sansour was asked to approve a statement saying that she withdrew from her nomination 'in order to pursue other opportunities'. Sansour has refused.
Quite a neat little censorship scam- censor the work then try and force the artist to pretend they withdrew it, which makes me wonder did Stalin wear polo shirts? One person who does like Lacoste is mass murdering fascist scumbag Anders Behring Breivik, to the point where Lacoste asked the police to make him stop wearing the brand in court. Which leaves Lacoste desiring a prosaic, conservative, elite image that is so intellectually vacuous it does not discern between a far Right Christianist terrorist and an artist's work that represents a dispossessed and oppressed people. I guess they sought to avoid controversy, Mission Accomplished…in the Bush sense.
Larissa Sansour's press release & related article and her work Nation Estate.
Update: Today (Wednesday 21st December) after the news spread to many international newspapers Lacoste reacted by cancelling their sponsorship of the entire Lacoste Elysée Prize 2011. You can read their hilariously awful statement here and the statement by Sam Stourdzé, Director of the Musée de l'Elysée here. Index on Censorship articles are here. The Musée de l'Elysée has offered to exhibit Sansour's work, in the event she takes them up on the proposal may I suggest for the private view a strict clothing policy be enforced: No Lacoste.